At the beginning of the new year, Goodreads always asks us the same hopeful question: "What is your Goodreads challenge going to be?" It means no harm, and with the same hopeful look on your face you begin to calculate: "well, 100 sounds really, REALLY good ... then again, I've never managed to read that many books in a year. Or in my whole life."
What I did last year was that I looked at the number of books I managed to read in 2016 and added 5. This seemed reasonable while still being challenging. The game was afoot, as one fictional detective would say. I read a book, found a new book to read, and read that too. Then I went to the shop got about five new ones, and read ... none. Half of the year would be gone and I'd check up on the Goodreads challenge only to discover that I was two books behind.
Still, this did not sound too bad, and the holidays were ahead of me, meaning enough time to read many, many books. Or finally tackle the 1,000 page long book I had been longing to read. That sounded more sensible, so I did that instead.
Joy turned to horror when I opened the app only to be told that I was 6 books behind and there were only two weeks left. I had to face the hard truth that I would slip into the new year with a failed Goodreads challenge ... which is exactly what I did.
— Susanne Kainer (@floralcars1) 14 de diciembre de 2017
For a moment, I really contemplated if this makes me into a bad bookworm, or bad book blogger. After all, in 365 days I did not even manage to read 30 books! Had I written a blog post about my top 10 books of 2017, I would have ended up listing 33% of what I had read. This sounds a bit ... measly.
I am hardly alone with this. A lot of people failed their Goodreads challenge, and some had goals that were lower than mine, while the others had a much bigger goal. And yet, in the great scheme of things, it makes no difference if you read only five books or 129. One does not make you into a bad bookworm and neither does the other make you into a good bookworm.
At the same time, the competitive spark can't be ignored so easily. Hence, this year I am going to do the reverse from last year. Instead of upping my challenge by 5 books I am going to reduce it by 5. Then there are other ways to stay on top and try to take on the challenge. One is a reading challenge, and I don't mean the type that Goodreads offers, I am talking about one where you read through different genres and books. This way, you'll not only get to read books that you normally would not touch.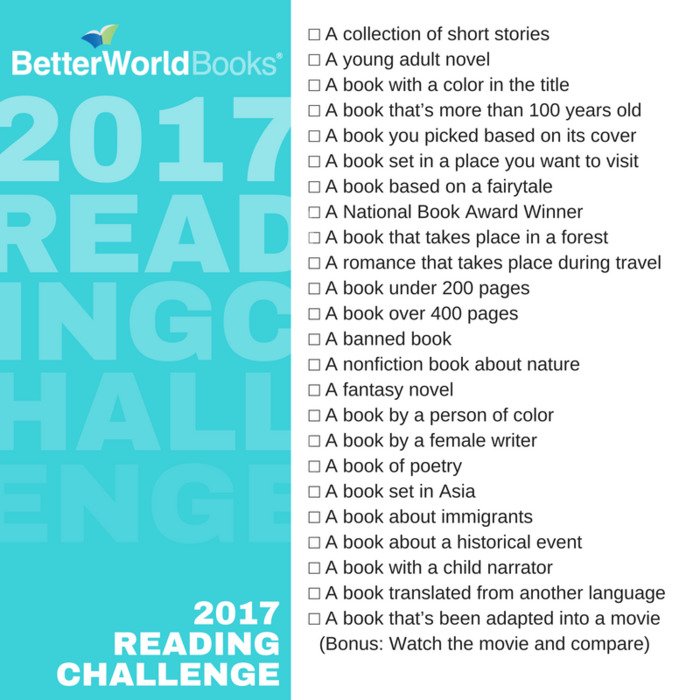 Because of the challenge pictured above, I read "The Strang And Beautiful Sorrow Of Ava Lavender" which is a stunner, even if the ending tends to leave you confused.
On top of this there are book clubs: you could join a local one, create one between you and a few friends or find a group on twitter. That is fully up to you. This way you'll always end up with at least one book to read and someone along the way who motivates you. Or at the very least the guilt of not having read it while the others did is going to motivate you.
This way, you should at least get close to finishing this year's challenge. Even if you do, or again when you fail, there is no master key to what makes anyone into a "true" bookworm. It is a feeling rather than a collection of achievements. Someone who treats the five books they read all year with much care, enjoys the process of reading along, and thinks about every second word is a bookworm. Just like someone who loves books so much that they write a review. In the end, the number of books you read, does not define you as a bookworm.